The ultimate summer picnic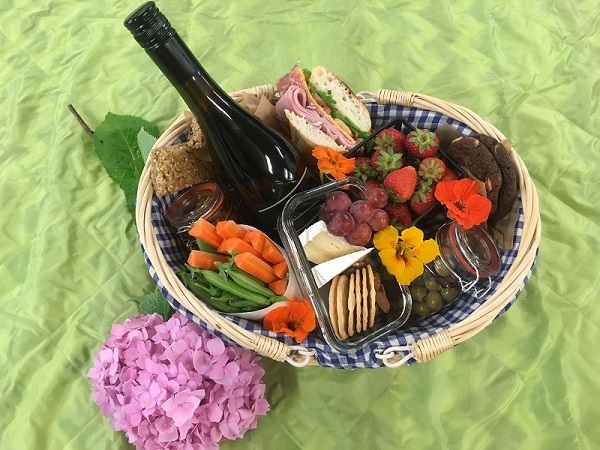 Nothing says summer like the perfect picnic, so we reached out to our in-house pastry experts, Jonathan Hannam and Charmaine Roma, and asked them to share some of their basket-packing tips. Check out what they had to say!
Tip #1: Be spontaneous, but don't forget to pack the essentials
The ideal picnic starts with great company, good eats, decent weather and a loose time frame – you need to be able to relax and take in the sights and sounds without rushing. Don't forget picnic essentials, like:
 A basket and blanket (this is your home base after all!)
Clean dishes, glasses, cutlery, lots of hand wipes and napkins (Tip: Real china, glassware, and flatware are not only a lovely touch while eating al fresco, but they also help weigh everything down on those windy days, plus they're environmentally friendly!)
 An umbrella
 Ice packs
Tip #2: Keep it simple
Plan a simple menu – the grab-and-go trend is your friend here! For convenience, add individual portions of your snacks. This makes it easy to transport your items and really gives you the opportunity to explore your picnic surroundings.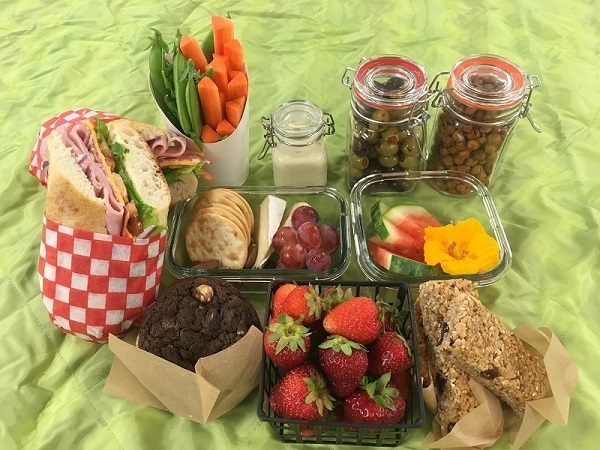 Tip #3: Pack fresh, local, and seasonal
Fresh, seasonal, and local fruit and veggies are a must. You can't go wrong with strawberries, watermelon, cherries or peaches.  And raw veggies, such as garden fresh snap peas, cool cucumbers and crunchy carrots all pair well with a garlicky hummus or tangy tzatziki. Cheese is also a classic picnic staple! Nothing pairs better with a chilled wine, salads and meats!
Don't forget dry snacks such as spiced and toasted chickpeas, popcorn, trail mix and granola bars. Round out your meal with some hearty sandwiches. To top it all off, tuck in something sweet, like a batch of freshly baked cookies or brownies.
Tip #4: Don't forget a beverage 
An absolute must in the summer heat is lots of ice cold water (Tip: Infuse your water with fresh berries and fruit). You may also want to treat yourself with something extra special. Having a nice bottle of wine on hand can help to perfect the moment, and is a great accompaniment to nibbles like cheese and fruit. Always consume responsibly!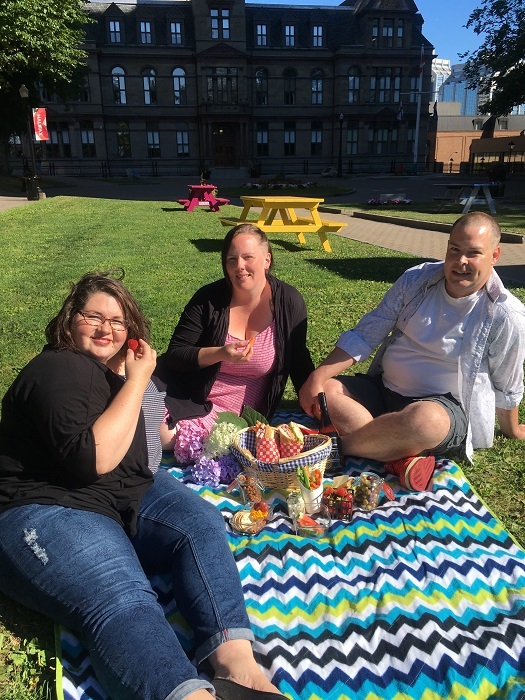 With so many incredible places to explore in our province, finding the perfect picnic location is easy. Whether it's taking the Harbour Water Taxi to McNabs Island, or planning a day trip to the valley, we hope you picnic with us soon! And with so much local produce, cheese, bakeries and wine to choose from, we've got your picnic essentials covered.
Do you share our passion for food and planning? Follow us and share your picnic tips!