Event Planning 101 – Being prepared, rain or shine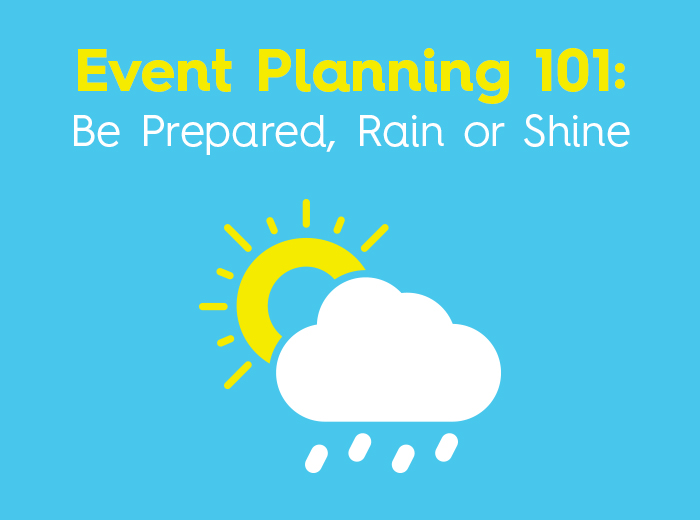 As event planners, we know that "the show must go on" – rain or shine. You may not be able to escape the arrival of bad weather, but you can prepare for it! We asked Lead Event Manager, Jeff Totten, to share some tips on how you can prevent the bad-weather blues when preparing for and executing your next event. Check out what he had to say.
Tip #1: Always have a "Plan B"
Weather shifts constantly, so when it comes to event preparation, having a back-up strategy is a fundamental part of the planning process. Always have a back-up plan, and ensure that all key personnel are in the know!
Tip #2: Map an evacuation route
Bad weather doesn't just impact outdoor events, it can even cause events hosted within a building to be cancelled or to end early.
Keep a close eye on weather reports and have a defined plan to communicate a venue or date change to your guests. Nothing is worse than having guests show up to a cancelled event or to the wrong venue. Also, have a plan in place to get guests out of the building and to safe locations in the case of a sudden weather event.
Tip #3: Communication, communication, communication
Communication is key to achieving maximum success for any event. When it comes to successful communication, there are three primary considerations that come to mind:
1. Discuss logistics with the venue.
Ask (a lot of) questions in advance to ensure you fill in the gaps, such as:
- What is the outcome of the contract's Force Majeure clause?
- Does the venue provide easy rescheduling? And if so, can we pre-schedule a back-up date?
2. Map out registration guidelines.
If applicable, be sure to have clear, posted guides as to if/when you are willing or able to refund registration.
3. Ensure you have a promotional strategy.
From the production of radio advertisements to graphic design development: promotional materials take time to put together. If weather conditions are poor and a cancellation takes place, a public announcement may be required. To ensure the message gets out as quickly as possible, it's important to ensure you're are ready for this in advance.
Here in Atlantic Canada, the weather is often unpredictable, but with these simple tips we're always a step ahead of Mother Nature!
Do you have event planning tips to share? Follow us and share your experiences!