Loading...
Reception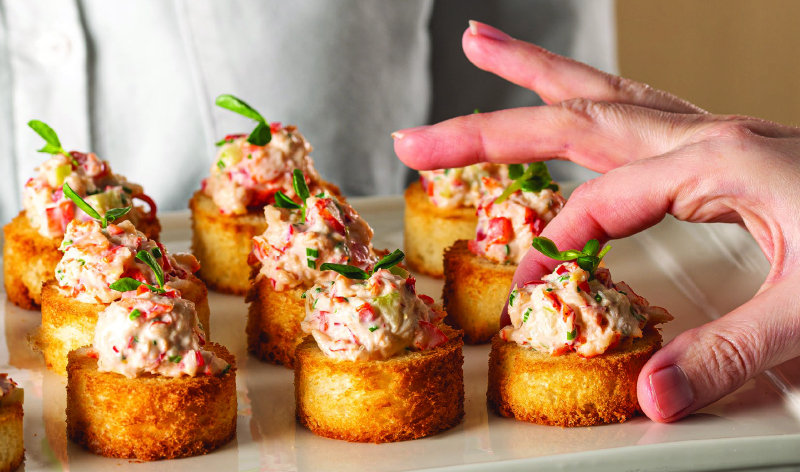 Want to make your reception a true Nova Scotian experience? Our Nova Scotia Stations feature culinary selections handpicked by our team to showcase the many flavours our local suppliers bring to our menu. Well provide signage and links to any of the 70+ Nova Scotian suppliers featured in your reception so your guests can experience firsthand what it means to taste Nova Scotia.
NOVA SCOTIA STATIONS
THE BUTCHER BLOCK / $24
(Minimum 100 guests)
Braised Eden Valley Chicken Thigh Slider with Mozzarella Cheese on Herb Rolls
Charcuterie Board with Preserves and House-made Mustard
Riverview Herb Micro Green, Beet & Radish Salad with Apple Vinaigrette vg gf
TODAY'S CATCH / $27
(Minimum 100 guests)
Nova Scotian Smoked Salmon & House Smoked Seafood Display with Flax Seed Baguettine & Condiments
Curried Blue Mussel Marinière gf
Atlantic Louisburg Crab & Spinach Cakes with Garlic Sauce
FARM FRESH / $23
(Minimum 100 guests)
Braised Root Vegetable with Savoury Waffle and Valley Egg Mousseline v
Canadian Cheese Display with Honey, Marmalade and Artisan Breads v
NOVA SCOTIAN LAMB SPIT ROAST / $32
(Minimum 100 guests)
Marinated and Roasted Boneless Leg of Lamb, Carved & served with Raisin Couscous & Braised Harissa Root Vegetables gf
BUTTER POACHED LOBSTER / $30
(Minimum 50 guests)
Morsels of Poached Lobster drawn in Vanilla Butter Sauce on top of a warm Chives Potato Mousseline gf
THE ICONIC HALIFAX DONAIR / $15
Spicy Donair Meat rolled in Pita Bread with Onions, Tomato & Donair Sauce
MARITIME CURRIED BLUE MUSSELS / $10
Cooked in Curry & Coconut Milk
LOCAL ACADIAN SALMON DISPLAY / $18
Cold & Hot-Smoked Salmon, Gravlax, Tartar, served with Caper Aioli & Crisp Toast Points
FISH & CHIPS / $18
(Minimum 50 guests)
Fresh Haddock with Local Craft Beer Batter served with Sea Salted Fries, Aioi Mayo & Smoked Ketchup v
PASSED HORS D'OEUVRES / $41 per dozen
Minimum 3 dozen per flavour
WHAT'S COLD
Orange & Cranberry Brie Crostini v
Hot Smoked Salmon & Acadian Maple Roasted Beetroot Sesame Cube
Boursin & Charred Tomato Profiterole
Maple-Cured Chicken Breast with Mango Chutney
Smoked Free-Range Oulton Farms Chicken & Shallot Marmalade Crostini
Tomato & Fox Hill Quark Crostini with Basil Pesto v
Shaved Beef with Blue Cheese on Mini Red Potato gf
Salmon Gravlax with Quail Egg gf
Asparagus & Squash Crostini v
Apple Onion Marmalade on Buttermilk Blinis v
Prosciutto & Boursin Cheese on Grilled Baguettine
Devilled Lobster on Brioche Toast
Cajun Shrimp with Mango Salsa
WHAT'S HOT
Blood Orange BBQ Glazed Pork Belly with Pickled Shallot on Grilled Polenta
Turkish-Spiced Lamb Meatballs with a Pomegranate Yogurt Dip
Louisburg Crab & Roasted Corn Cake with Artichoke Kale Dip
Java Blend Coffee-Rubbed Beef Brochette
Twice-Baked Nugget Potato stuffed with Smoked Cheddar & Scallions v
Seared Digby Scallops, Bacon-Wrapped with Maple Gastrique gf
Pork & Shrimp Spring Rolls with Chili Cilantro Dipping Sauce
Mini Beef & Sherry Puffs
Vegetable Spring Rolls v
Open-Faced Chicken Shawarma Pita with Garlic Dip
Garlic Butter Gochujang Shrimp
Chicken Cilantro with Salsa Picante gf
Chinese Five-Spice Pork Belly Bites gf
Tempura Cauliflower with Szechuan Sauce vg
Mini Croque Monsieur, Cured Rosemary Ham with Gruyere Cheese
Corn Fritters with Blue Cheese Dip v
ACTION STATIONS
Each station comes with your own personal chef!
CARVED BEEF SIRLOIN / $16
(Min 50)
With Assorted Condiments & Served on an Onion Mini Kaiser
FLAMBE STATIONS / $20 gf
(Min 50) Choose one:
Digby Scallops served with Rum & Herb Butter
White Tiger Shrimp served with Vodka & Herb Butter
WE DREAM IN DESSERTS / $20
Blueberry Grunt & Whipped Cream Station with our Pastry Chef v
Mini Field Strawberry Shortcakes v
Display of Sweet Petites & Dessert Shooters v
Chocolate Dipped Strawberry Trees: Belgian White, Milk & Dark Chocolate v
DISPLAY STATIONS
PASTA PERFECTION / $16
Pasta served with:
Vegetarian Mushroom Sauce v
Beef & Roasted Tomato Sauce
Parmesan
Cracked Pepper
Upgrade to Lobster with Garlic & Chive Cream Sauce / $5 per
HOT SMOKED SALMON / $15
with Apple Cabbage Slaw on a Soft Brioche Bun with Dill & Lemon Sauce
PANINIS / $17
Made on Parisian Bread & Freshly Pressed. (GF options available) Choose two:
Marinated Grilled Chicken with Fox Hill Cranberry Cheddar
Shaved Beef with Havarti
Grilled Vegetable with Goat Cheese
Ham & Emmental
POUTINE / $16
(Minimum 50 guests)
Fresh Sea Salted French Fries with Truffle Oil
Choose two toppings:
Original Beef Gravy & Cheese Curds
Chicken Tikka Masala with Havarti
I Can't Believe It's Not Beef! with Mushroom Gravy & Vegan Cheese vg
Pulled Pork with Barbeque Sauce & Monterey Jack
Upgrade to Lobster & Emmental / $3 per
CHARCUTERIE BOARD / $20
Pork Rillette, Mild Chorizo, Country Style Pate, Salami, Liver Mousse
served with French Cornichon, Pickled Beets, Mustard, Grilled Baguette & Artisan Bread
SEACUTERIE / $24
Cold & Hot-Smoked Local Seafood Display, Solomon Gundy, Pate & Fish Rillettes, Crab Spread
Served with Lemons, Capers, Pickled Radish, Sauces, with Crackers & Crostini
Tidal Bay White Wine & Shallot Marinated Mussels
SUSHI / $20
Based on 4 pieces per guest
An Assortment of Japanese Maki & Nigiri Sushi
Served with Pickled Ginger, Wasabi, Gluten-Free Soy Sauce & Asian Seaweed Salad
MARITIME OYSTER DISPLAY / $16
Based on three pieces per guest
Served with Shallot Red Wine Mignonette, Lemon, Hot Sauce & Shaved Horseradish
ASIAN STEAMED DUMPLINGS & POT STICKERS / $15 gf
Based on five pieces per guest
Chicken, Pork & Vegetable served with Soy Ginger Dipping Sauce
BASKET OF SPICED CORN CHIPS / $10 vg
Served with Salsa, Guacamole, Corn Jalapeno Cheese Dip & Sour Cream
CHEESE DISPLAY / $15 v
Served with Honey, Marmalade, Honeyed & Spiced Nuts with Nut Biscotti Crackers
MELTED CHEESE RACLETTE / $16 gf
Served with Baby Boiled Potatoes with Garlic & Parsley Butter
An Assortment of Cured Meats
Frisée Salad with Braised Shallot Vinaigrette
Cornichons & Pickled Vegetables
CRUDITE BAR / $11 v gf
Served with Assorted Dips & Roasted Garlic Hummus
ANTIPASTI DISPLAY / $20
Grilled Vegetable Salad with Citrus Dressing
Marinated Artichokes & Kalamata Oives
Cherry Tomato with Bocconcini & Sweet Basil Dressing
Cold Cut & Cheese Display
Crackers & Grissini
WARM SAVOURY DONUTS / $18
(Minimum order 50)
Allow our chefs to create something unique like our BBQ Chicken Beignets, Smoked Cheddar Churros or Baked Herb & Cream Cheese Donut
SPECTACULAR SPOON DISPLAYS
SPOON OPTIONS
Full Spoon Wall – 206 spoons / $725
Five-layer Pyramid – 185 spoons / $650
Five-layer Half-Pyramid – 90 spoons / $320
Spoons can also be served / $41 per dozen
Savory Spoons
Chicken Ballantine stuffed with Apricots over Sage Apple Chutney gf
Sustainable Blue Salmon Gravlax with Asparagus topped with Candied Citrus Zest gf
Pico de Gallo, White Balsamic & Pea Shoot vg gf
Beef Bresaola with Braised Cipollini Onion Horseradish Cream & Dried Cherry Tomato
Sea Salt Cured Digby Scallops with Fresh Citrus & Pea Shoots
Sweet Spoons
Cheesecakes
Fruit Curds
Pâte de Fruit
Crème Brulée
Chocolate Pâté
Our culinary team will also create custom spoons for your event.
*All food selections have a 25 persons minimum order unless otherwise noted. Prices are subject to change.
Food & Beverage Downloads