Loading...
Plated Dinner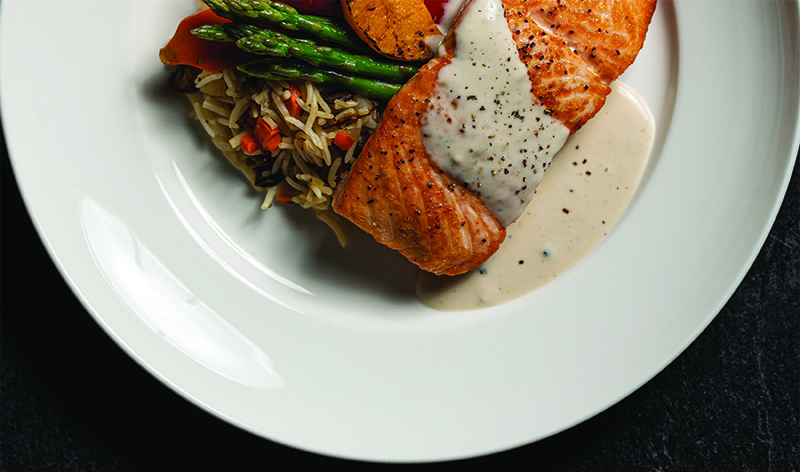 Standard Inclusions
Stonehearth Rolls & Creamery Butter
Java Blend Coffee Roasted Coffee & Orange Pekoe Tea
ENHANCED BREADBASKET / $3.5
(Enhance your experience with one of our assorted bakeshop breadbaskets and dips. Choice of one theme)
South American Bread Basket: Jalapeño Cheddar Cornbread, Mango Lime Concha, Smoked Chipotle Sea Salt Flat Bread served with Chimichurri, White Bean and Cilantro Dip
Taste of Italy: Pesto Ciabatta, Olive Focaccia, Sesame Grissini served with Sundried Tomato Tapenade, EVOO and Balsamic Reduction (N)
Taste of the Maritimes: Irish Soda Bread, Anadama, Dulse Lavash served with Whipped Black Strap Molasses Butter, Blueberry Shallot Chutney
Harvest Theme: Potato and Chive Rolls, Rustic Whole Wheat Cranberry & Pumpkin Seed Bread, Bacon & Sweet Pepper Corn Bread served with Rosemary Apple Butter, Roasted Carrot & Ginger Spread
SOUPS / $11
Roasted Butternut Squash & Sage (VG/GF)
Fisherman's Market Seafood Chowder (GF)
Pulled Pork & Root Vegetables with Cannellini Bean (GF)
Roasted Parsnip, Carrot & Spinach with Ginger Cream (V/GF)
Eden Valley Chicken & Spiced Sausage, Gumbo Style (GF)
Curried Vegetables & Ginger with Coconut Milk (VG/GF)
SALADS / $14
Bluenose Niçoise Salad served with Seared Ahi Tuna, Tomato, Fingerling Potato, Olives, Green Beans with Lemon & Dulce Sea Salt Vinaigrette (GF/DF)
Roasted Yellow Beet & Arugula with Blue Cheese Crumble, Toasted Spicey-Glazed Pecan & Red Wine Highland Haskap Berry Vinaigrette (GF/N/V)
Quinoa, Roasted Artichoke, Blistered Tomatoes, Toasted Pine Nuts with a Tidal Bay Vinaigrette (DF/GF/N/VF)
Mesclun Salad with Smoked Eden Valley Chicken, Roasted Peppers & Tomatoes, Feta, Basil & Olive Oil Drizzle (GF)
Peppercorn Crusted Beef Carpaccio, Micro Greens, Topped with Kalamata Olives, Parmesan Curls & Black Truffle Aioli (GF)
ENTRÉES Served with Seasonal Vegetables
Slow-Roasted Beef Tenderloin on a Creamy Spinach & Garlic Fondue, Herb & Garlic Potatoes, Wild Mushroom Maderia Sauce (GF) 52
Harissa Pan-Seared AshMeg Seafoods Halibut with Vegetable Ragu, Roasted Sweet Red Pepper Coulis, Chickpea & Onion Couscous $50
Smoked Meadowbrook Meats Pork Loin with Cider Sage Demi & Buttermilk Potato Mash (GF) $44
Grilled Chicken Breast topped with Mushroom & Leek Fondue, Gratin Dauphinoise & Red Wine Jus (GF) $46
Moussaka, Slow Roasted Garlic, Eggplant, Zucchini & Mushrooms with sauteed Plant-Based Meat, topped with Sweet Yam Mousseline & Fresh Basil Oil (VG) $42
Duet of Braised Eden Valley Chicken Thigh & Slow-Roasted Beef Tenderloin Fillet with Rosemary Sauce, served with Caramelized Sweet Potatoes (GF) $48
Herb & Garlic Crusted Sustainable Blue Salmon with Vanilla Butter, Poached Digby Scallop, Citrus Veloute, Corn, Bacon & Potato Cake (GF) $51
Seared Sustainable Blue Salmon Fillet with Anise Butter Cream, and Shitake Mushroom Rice Pilaf (GF) $44
DELECTABLE DESSERTS / $14
Dark Chocolate Molten Cake, Star Anise Pineapple Chutney, Cardamon Cream (V)
Sachertorte Re-Imagined: Black Bean & Toasted Almond Brownie, Apricot Dark Chocolate Ganache, Apricot Chantilly & Raspberry Coulis (V/GF/N)
JD Shore Rum Baba, Mango Strawberry Soup, Lychee & Ginger Sorbet (V)
Strawberry Basil Chiffon Torte, Basil Creme Brule, Strawberry Compote, Black Pepper Anglaise (V)
Cinnamon Rice Pudding, Caramel Apple Confit, Fox Hill Cheese House Goat Cheese & Vanilla Bean Ice Cream, Lemon Blueberry Brioche Crouton (V)
A Trio Inspired by Nuts Without Nuts: Pumpkin Seed & Dark Chocolate Macaron, Cocoa Nib Coconut Financier, Wow! Butter Mousse & Dark Chocolate Shooter (V)
DESSERT BUFFET / $19
Upgrade your dessert to a buffet and allow our pastry chef to create a Wow moment!
Classic Nova Scotian Lobster Dinner / $89
(Minimum 50 guests)
Fresh Baked Scone with Sea Salted Churned Butter
Our Famous Nova Scotian Fisherman's Market Seafood Chowder
Trio of Farm-Fresh Salads Fingerling Potatoes with Chives
Artichoke & Green Bean with White Balsamic Dressing
Corn & Sweet Peas with Herb Garlic Vinaigrette
A Boiled 1 1/4 lb. Lobster served with Melted Garlic Butter (GF)
Warm Maple Pudding Chomeur with Vanilla Bean Ice Cream (V)
Additional lobster based on market price.
Dinner Buffet / $69
(Minimum 50 guests)
Standard Inclusions
Stonehearth Bakery Rolls & Creamery Butter
Java Blend Coffee Roasters Coffee & Orange Pekoe Tea
SOUPS Choose one:
Nova Scotian Lobster Bisque with Crème Fraiche and Garlic Baguettine
Louisburg Crab & Salmon Chowder with Sweet Potatoes & Dill (GF)
Roasted Chicken Cream with Garlic & Pancetta
Digby Scallop & Louisburg Shrimp in a Tomato Fennel Consumme
Broccoli, Nova Scotia Craft Brewed IPA & Smoked Cheddar
Wild Mushroom & Beef with Farro
SALADS Choose two
Marinated Pasta Salad with Tomato, Olives, Artichokes & Basil topped with Parmesan Cheese
Baby Spinach with Roasted Pears, Candied Walnuts & Blue Cheese topped with a Sherry Pommery Vinaigrette (N)
Infused Potato Salad with Broccoli, Grilled Peppers & Riverview HerbChive Vinaigrette (GF)
Green Kale Salad topped with Pecorino Cheese, Dried Terra Beata Cranberries, Candied Walnuts, Pumpkin Seeds & Lemon Poppy Seed Vinaigrette (V/GF/N)
Grilled Vegetable Salad with Bocconcini Cheese & Basil Dressing (V/GF)
Fattoush Salad with Tomatoes, Pepper, Cucumber, Radishes, Romaine Lettuce & Pita Crisp with Citrus Vinaigrette (V)
HOT ENTREES Served with a complementary starch & seasonal vegetable. Choose two:
Wild Mushroom Maritime Beef Bourguignon (GF)
Steamed Sustainable Blue Salmon with Smoked Tomato Sauce & Grilled Fennel
Braised Eden Valley Chicken Tuscan Style in Jus with Pesto Cherry Tomatoes (GF/N)
Dark & Stormy Pork Loin with JD Shore Rum & Roasted Ginger (GF)
Blackened Cajun AshMeg Seafoods Haddock with Chunky Tomato & Olive Sauce
Roasted Berbere & Lim Cauliflower Steak on a Crispy Fried Chickpea & Kale with Romesco Sauce (VF) Additional Hot Entree $9 per
DESSERTS
Sweet Petites, Cheesecakes, Pies, Tortes, Fresh Fruit Salad, Assorted Sauces & a Warm Dessert (N)
*All food selections have a 25 persons minimum order unless otherwise noted. Prices are subject to change.
Food & Beverage Downloads
Sustainable Blue

The world's most responsible sustainable fishery uses zero antibiotics, zero hormones, and produces zero wastewater, to ensure the healthiest—and tastiest—salmon ends up on our menu.

Eden Valley Chicken

Eden Valley producers supply the best quality poultry from their family farms, straight from Nova Scotia's Annapolis Valley to our kitchen.

Riverview Herbs

A year-round, family-run greenhouse specializing in fresh-cut culinary herbs and over 150 varieties of plants, Riverview Herbs helps our team enhance our dishes with a uniquely Nova Scotian flavour.