Loading...
Dinner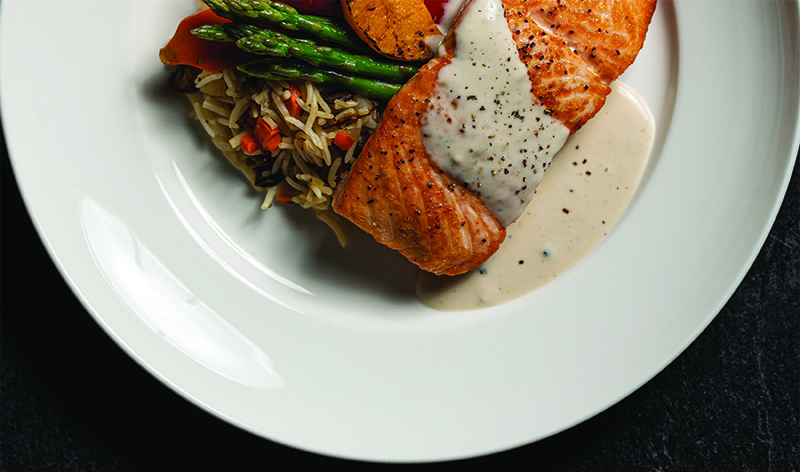 Standard Inclusions
Rolls & Creamery Butter
Coffee & Tea
ENHANCED BREADBASKET / $3.5
(Enhance your experience with one of our assorted bakeshop breadbaskets and dips. Choice of one theme)
South American Bread Basket: Jalapeño Cheddar Cornbread, Mango Lime Concha, Smoked Chipotle Sea Salt Flat Bread served with Chimichurri, White Bean and Cilantro Dip
Taste of Italy: Pesto Ciabatta, Olive Focaccia, Sesame Grissini served with Sundried Tomato Tapenade, EVOO and Balsamic Reduction
Taste of the Maritimes: Irish Soda Bread, Anadama, Dulse Lavash served with Whipped Black Strap Molasses Butter, Blueberry Shallot Chutney
Harvest Theme: Potato and Chive Rolls, Rustic Whole Wheat Cranberry & Pumpkin Seed Bread, Bacon & Sweet Pepper Corn Bread served with Rosemary Apple Butter, Roasted Carrot & Ginger Spread
SOUPS / $11
Roasted Butternut Squash & Sage vg gf
Fisherman Seafood Chowder gf
Pulled Pork & Root Vegetables with Cannellini Bean gf
Roasted Parsnip, Carrot & Spinach with Ginger Cream v gf
Chicken & Spiced Sausage, Gumbo Style gf
Curried Vegetables & Ginger with Coconut Milk vg gf
SALADS / $14
Bluenose Niçoise Salad served with Seared Ahi Tuna, Tomato, Fingerling Potato, Olives, Green Beans with Lemon & Dulce Sea Salt Vinaigrette gf df
Roasted Yellow Beet & Arugula with Blue Cheese Crumble, Toasted Spicey-Glazed Pecan & Red Wine Haskap Berry Vinaigrette vg gf
Quinoa, Roasted Artichoke, Blistered Tomatoes, Toasted Pine Nuts with a Tidal Bay Vinaigrette vg gf
Mesclun Salad with Smoked Chicken, Roasted Peppers & Tomatoes, Feta, Basil & Olive Oil Drizzle gf
Peppercorn Crusted Beef Carpaccio, Micro Greens, Topped with Kalamata Olives, Parmesan Curls & Black Truffle Aioli gf
ENTRÉES Served with Seasonal Vegetables
Harissa Pan-Seared Halibut with Vegetable Ragu, Roasted Sweet Red Pepper Coulis, Chickpea & Onion Couscous $50
Smoked Pork Loin with Cider Sage Demi & Buttermilk Potato Mash $44 gf
Grilled Chicken Breast topped with Mushroom & Leek Fondue, Gratin Dauphinoise & Red Wine Jus $46 gf
Moussaka, Slow Roasted Garlic, Eggplant, Zucchini & Mushrooms with sauteed Plant-Based Meat, topped with Sweet Yam Mousseline & Fresh Basil Oil $42 vg
Duet of Braised Eden Valley Chicken Thigh & Slow-Roasted Beef Tenderloin Fillet with Rosemary Sauce, served with Caramelized Sweet Potatoes $48 gf
Herb & Garlic Crusted Sustainable Blue Salmon with Vanilla Butter, Poached Digby Scallop, Citrus Veloute, Corn, Bacon & Potato Cake $51 gf
Seared Sustainable Blue Salmon Fillet with Anise Butter Cream, and Shitake Mushroom Rice Pilaf $44 gf
Slow-Roasted Beef Tenderloin on a Creamy Spinach & Garlic Fondue, Herb & Garlic Potatoes, Willd Mushroom Maderia Sauce 52 gf
DELECTABLE DESSERTS / $14
Dark Chocolate Molten Cake, Star Anise Pineapple Chutney, Cardamon Cream v
Sachertorte Re-Imagined: Black Bean & Toasted Almond Brownie, Apricot Dark Chocolate Ganache, Apricot Chantilly & Raspberry Coulis v gf
Rum Baba, Mango Strawberry Soup, Lychee & Ginger Sorbet v
Strawberry Basil Chiffon Torte, Basil Creme Brule, Strawberry Compote, Black Pepper Anglaise v
Cinnamon Rice Pudding, Caramel Apple Confit, Fox Hill Goat Cheese & Vanilla Bean Ice Cream, Lemon Blueberry Brioche Crouton v
A Trio Inspired by Nuts Without Nuts: Pumpkin Seed & Dark Chocolate Macaron, Cocoa Nib Coconut Financier, Wow! Butter Mousse & Dark Chocolate Shooter v
DESSERT BUFFET / $19
Allow our pastry chef to create a wow moment!
Classic Nova Scotian Lobster Dinner / $89
(Minimum 50 guests)
Fresh Baked Scone with Sea Salted Churned Butter
Our Famous Nova Scotian Seafood Chowder
Trio of Farm-Fresh Salads Fingerling Potatoes with Chives
Artichoke & Green Bean with White Balsamic Dressing
Corn & Sweet Peas with Herb Garlic Vinaigrette
A Boiled 1 1/4 lb. Lobster served with Melted Garlic Butter gf
Warm Maple Pudding Chomeur with Vanilla Bean Ice Cream v
Additional lobster based on market price.
Buffets / $60
(Minimum 50 guests)
Standard Inclusions
Rolls & Creamery Butter
Coffee & Tea
SOUPS Choose one:
Nova Scotian Lobster Bisque with Crème Fraiche and Garlic Baguettine
Louisburg Crab & Salmon Chowder with Sweet Potatoes & Dill gf
Roasted Chicken Cream with Garlic & Pancetta
Digby Scallop & Louisburg Shrimp in a Tomato Fennel Consumme
Broccoli, Nova Scotia Craft Brewed IPA & Smoked Cheddar
Wild Mushroom & Beef with Farro
SALADS Choose two
Marinated Pasta Salad with Tomato, Olives, Artichokes & Basil topped with Parmesan Cheese
Baby Spinach with Roasted Pears, Candied Walnuts & Blue Cheese topped with a Sherry Pommery Vinaigrette
Infused Potato Salad with Broccoli, Grilled Peppers & Chive Vinaigrette gf
Green Kale Salad topped with Pecorino Cheese, Dried Cranberries, Candied Walnuts, Pumpkin Seeds & Lemon Poppy Seed Vinaigrette v gf
Grilled Vegetable Salad with Bocconcini Cheese & Basil Dressing v gf
Fattoush Salad with Tomatoes, Pepper, Cucumber, Radishes, Romaine Lettuce & Pita Crisp with Citrus Vinaigrette
HOT ENTREES Served with a complementary starch & seasonal vegetable. Choose one
Wild Mushroom Maritime Beef Bourguignon gf
Steamed Sustainable Blue Salmon with Smoked Tomato Sauce & Grilled Fennel
Braised Chicken Tuscan Style in Jus with Pesto Cherry Tomatoes gf
Dark & Stormy Pork Loin with Rum & Roasted Ginger gf
Blackened Cajun Haddock with Chunky Tomato & Olive Sauce
DESSERTS
Sweet Petites, Cheesecakes, Pies, Tortes, Fresh Fruit Salad, Assorted Sauces & a Warm Dessert
*All food selections have a 25 persons minimum order unless otherwise noted. Prices are subject to change.
Food & Beverage Downloads