Loading...
Plated Breakfast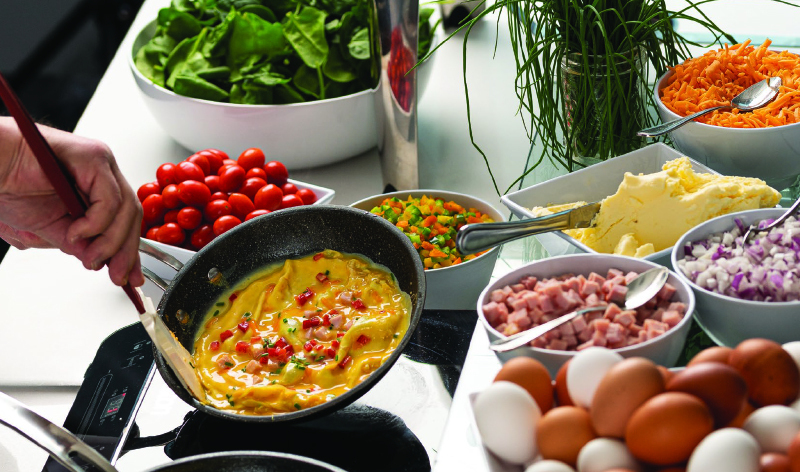 Standard Inclusions
Java Blend Coffee Roasters Coffee & Orange Pekoe Tea
THE NOVA SCOTIAN (GF) / $34
Scrambled Eggs with Cheddar Cheese topped with Blistered Cherry Tomatoes
Meadowbrook Breakfast Sausage
Smoked Back Bacon
Home Fries
Baked Beans
BREAKFAST BOWL (GF) / $35
Poached Egg
The Pork Shop Chicken & Apple Sausage Crumble
Caramelized Rosemary Roasted Butternut Squash & Quinoa
Kale Pesto Hollandaise
HEART SMART BREAKFAST (VG/GF) / $27
Spinach & Herb Egg White Frittata
Warm Ratatouille with Basil Oil
Caramelized Sweet Potatoes
OVERNIGHT OAT BOWL (VG/GF) / $34
Terra Beata Cranberry, Oxford Wild Blueberry & Apricot Overnight Oats topped with: Cinnamon
Fruit & Berries
Roasted Coconut
Add a basket of 10 assorted breakfast pastries for the table / $60
Breakfast Buffets
THE CONTINENTAL / $25
Assorted Juices & Farmer's Dairy Milk
Baked Goods (1 per person) including: Sweet & Savoury Muffins
Turnovers (VG)
Mini Loaves
Sweet & Savoury Scones
Roasted Pepper Cornbread (V)
Yogurt
Sliced Seasonal Fruit & Berries (VG/GF)
GET UP AND GO / $37
Choice of: Breakfast Sandwich with Bacon, Egg & That Dutchman's Gouda Cheese
or
Breakfast Sandwich with Spinach & Grilled Vegetables, Egg & Herb Havarti Cheese (V)
Served with: Acadian Maple Blueberry Granola Bars (GF/VF)
Mini Muffins (V)
Fruit Kabob (GF/VF)
HEALTHY HOME RUN / $36
Choice of: Spinach & Egg White Frittatas with Olive Oil & Sundried Tomato
-or-
Scrambled Eggs with Chives & Aged Cheddar Cheese with Blistered Cherry Tomatoes
Served with: Juices
Oxford Blueberry & Banana Smoothie (V/GF)
Yogurt
Sliced Seasonal Fruit & Berries (VG/GF)
The Pork Shop Chicken Sausages
Roasted Mini Potatoes
Enhance Your Breakfast Buffet With These Add-Ons:
OMELET ACTION STATION / $13
Looking to wow your guests? Add an Omelet Action Station to your buffet and let a member of our culinary team craft your omelet to order.
Minimum 50
GRAINS
East Coast Bakery Bagels with Cream Cheese (V) / $6
East Coast Bakery Bagels with Cream Cheese & Comeau Cod Smoked Salmon / $12.50
Assorted Cereals / $4.5
Hot Oatmeal with Dried Fruit & Toasted Almonds (VG/GF) / $8
Breads & Spreads Station / $4.5 with Slice White & Whole Wheat Breads & Butter with Fruit Preserves
EGGS
Eggs Benedict with Back Bacon & Riesling Hollandaise on English Muffins / $13
Mini Omelet with Caramelized Onion & Swiss Cheese / $10
Hard-boiled Egg / $5
PROTEINS / $7
Pork & Beef Sausages (GF)
Meadowbrook Meats Pork Sausages (GF)
The Pork Shop's Chicken Sausages
Meadowbrook Meats Back Bacon (GF)
Glazed Brown Sugar Ham (GF)
Smoked Bacon (GF)
Beef Bacon (GF)
*All food selections have a 25 persons minimum order unless otherwise noted. Prices are subject to change.
Food & Beverage Downloads
The Pork Shop

With over two decades offering the finest pork products, you could say these folks have certainly earned the blue ribbon. They supply over 70 products, including the chicken sausage they create just for us.

Stone Hearth Bakery

For over 40 years, Stone Hearth Bakery has provided Halifax with delicious, locally baked goods. They also provide learning, training, and employment pathways for those facing challenges to finding sustainable and meaningful work. Doing good tastes great, and we love working with this team.

Egg Farmers of Nova Scotia

A non-profit organization representing the province's 25 registered egg farmers, they provide the highest quality eggs to Nova Scotians, so we can start our mornings—and cakes, and hollandaise sauces, and croissants —right.