Loading...
Break-Time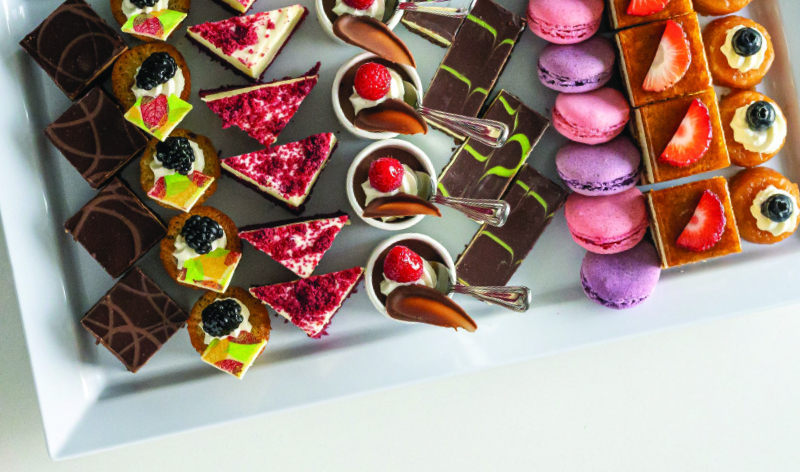 Standard Inclusions
Coffee & Tea
Healthy Break / $19
Root Vegetable Chips with Artichoke Dip v gf
Almond Quinoa Berry Bar vg gf
Apricot Zinger Energy Balls vg gf
Picnic In The Park / $19
Canadian Cheeses, Grapes & Berries
Crisp Crudité & Beetroot Hummus vg
Citrus Tarts & Chocolate Brownies v
The Road-Tripper / $17 v
Based on 2 pieces per person
Crosby's Molasses Gingerbread
Annapolis Valley Apple Streusel
Oxford Blueberry & Lemon
Highland Field Rhubarb & Yogurt
DONUTS, BEIGNET & CHURROS - OH MY! / $19 v
Based on 2 per person
Sugared Donuts
Raspberry Berliners
Apple Fritters
Cinnamon Churros
Powdered Sugar Beignets
Sliced Fruit Display
Sweet & Salty / $19 v
Popcorn with Shaker Seasonings
Brownies
Kettle Chips with Roasted Onion Dip & Ketchup
TIME FOR A QUICK DIP / $18
Tortilla Chips, Soft Pretzel Bites & Veggies v
Salsa, Artichoke Dip, Honey Mustard Aioli gf
Fruit Spears with Yogurt Dip v gf
THE CHOCOHOLIC / $20 v
Triple Chocolate Brownies
Dark Chocolate Dipped Mini Oatcakes
Chocolate Eclairs
Chocolate Almond Bark gf
Chocolate Pot de Creme gf
Assorted Pralines
THE HALIFAX HIGH TEA / $28
Minimum 50 guests
Finger Sandwiches
Scones with Preserves & Clotted Cream v
Chocolate Dipped Coconut Congolais vg gf
Strawberry & Blueberry Opera Torte v
Fruit Tartlets with Lemon
Served with Numi English Breakfast Tea
Build Your Own Break
Pastries / $6 v
Danish Pastries
Croissants Butter
Od Cheddar
Lemon Curd
Chocolate
Cinnamon Rolls
Tea Biscuits & Scones
Mini Muffins Based on 2 per guest
Muffins
Flakey Turnovers vg Blueberry
Apple
Cherry
Almond Quinoa Berry Energy Bar / $5.75 vg gf
Traditional Pictou County Oatcakes / $5 v
Chocolate Dipped Oatcakes / $6 v
Fruit & Seed Granola Bars / $5.75 vg gf
Cookie Creation / $5 v gf
A selection of our chef's seasonal flavours. Based on 2 per guest.
Examples:
Chocolate Chunk
Double Chocolate
Ginger Sparkle
Oatmeal Apple
Pumpkin
Raspberry Jelly Roll
Raspberry White Chocolate
Cinnamon Roll
Energy Balls / $6 gf
Based on 2 per guest. Choose 2 flavours:

Oatmeal, Cranberry & Dark Chocolate
Carrot & Raisin
Apple Pie
Field Berry Smoothie / $9 v
Seasonal Whole Fruit / $3.25 vg gf
Diced Fruit Salad with Berries / $8 v
Sliced Fruit garnished with Berries / $11 vg gf
Fruit Kabob / $12 vg
Crisp Crudité with Assorted Dips / $9 v gf
Kettle Chips with Aioli & Light Curry Mayo / $9.5 v
Popcorn with Shaker Seasonings / $6.5 v gf
Pretzel Bites with Sweet or Savoury Dips / $9.5 v
Premium Ice Cream Bars / $10 v
Minimum order 24 per flavour
Cheese Display with Chutneys, Spiced Nuts & Baguettine Toast / $7 v gf
Chef's Choice Sweet Petites / $7 v
*All food selections have a 25 persons minimum order unless otherwise noted. Prices are subject to change.
Food & Beverage Downloads