Loading...
Breaktime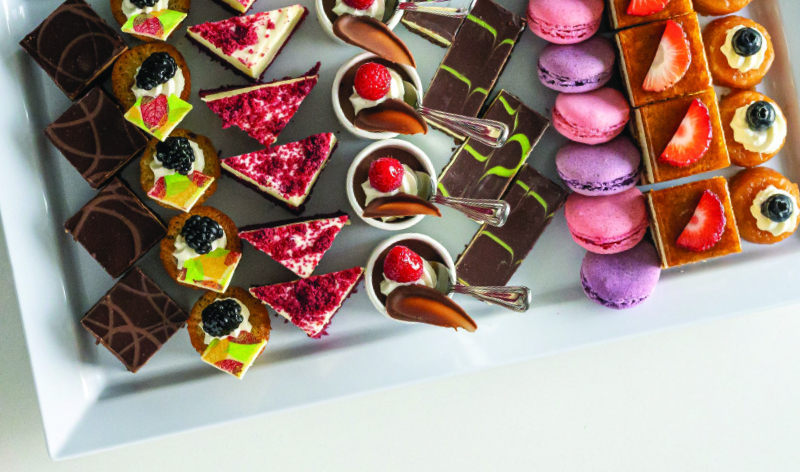 Standard Inclusions
All selections based on a total of 2 per person
Java Blend Coffee Roasters Coffee & Assorted Teas
Picnic In The Park / $19
Canadian Cheeses, Grapes & Berries
Crisp Crudité & Beetroot Hummus (VG)
Citrus Tarts & Chocolate Brownies (V)
Healthy Break / $19
Root Vegetable Chips with Artichoke Dip (V/GF)
Almond Quinoa Berry Bar (VG/GF)
Apricot Zinger Energy Balls (VG/GF/N)
The Road-Tripper (V) / $17
Crosby's Molasses Gingerbread
Annapolis Valley Apple Streusel
Oxford Blueberry & Lemon Loaf
Highland Field Rhubarb & Yogurt
THE CHOCOHOLIC (V) / $20
Triple Chocolate Brownies
Dark Chocolate Dipped Mini Oatcakes
Chocolate Eclairs
Chocolate Almond Bark (GF/N)
Chocolate Pot de Creme (GF)
Assorted Pralines (N)
DONUTS, BEIGNET & CHURROS - OH MY! (V) / $19
Based on 2 per person
Sugared Donuts
Raspberry Berliners
Apple Fritters
Cinnamon Churros
Powdered Sugar Beignets
Sliced Fruit Display
Sweet & Salty (V) / $19
Popcorn with Shaker Seasonings
Brownies
Kettle Chips with Roasted Onion Dip & Ketchup
TIME FOR A QUICK DIP / $18
Tortilla Chips, Soft Pretzel Bites & Veggies (V)
Salsa, Artichoke Dip, Honey Mustard Aioli (GF)
Fruit Spears with Yogurt Dip (V/GF)
THE HALIFAX HIGH TEA / $28
Minimum 50 guests
Finger Sandwiches on 24 Carrot Bakery Breads
Scones with Preserves & Clotted Cream (V)
Chocolate Dipped Coconut Congolais (VG/GF)
Strawberry & Blueberry Opera Torte (V)
Fruit Tartlets with Lemon
Served with Orange Pekoe Tea & Java Blend Coffee Roasters Coffee
Build Your Own Break
Pastries (V) / $6
Danish Pastries
Croissants Butter
Old Cheddar
Lemon Curd
Chocolate
Cinnamon Rolls
Tea Biscuits & Scones
Mini Muffins Based on 2 per guest
Muffins
Flakey Turnovers (VG) Blueberry
Apple
Cherry
Cookie Creation (V) / $5
A selection of our chef's seasonal flavours. Based on 2 per guest.
Examples:
Chocolate Chunk
Double Chocolate
Ginger Sparkle
Oatmeal Apple
Pumpkin
Raspberry Jelly Roll
Raspberry White Chocolate
Cinnamon Roll
Energy Balls (GF/N) / $6
Based on 2 per guest. Choose 2 flavours:

Oatmeal, Terra Beata Cranberry & Dark Chocolate
Carrot & Raisin
Apple Pie
Java Blend Coffee Roasters Coffee & Assorted Teas / $6
Field Berry Smoothie (V) / $9
Seasonal Whole Fruit (VG/GF) / $3.25
Diced Fruit Salad with Berries (V) / $8
Sliced Fruit Garnished with Berries (VG/GF) / $11
Fruit Kabob (VG) / $12
Individual Yogurts / $5
Crisp Crudité with Assorted Dips (V/GF) / $9
Kettle Chips with Aioli & Light Curry Mayo (V) / $9.5
Popcorn with Shaker Seasonings (V/GF) / $6.5
Pretzel Bites with Sweet or Savoury Dips (V) / $9.5
Premium Ice Cream Bars (V) / $10
Minimum order 24 per flavour
Cheese Display with Chutneys, Spiced Nuts & Baguettine Toast (V/GF) / $7
Chef's Choice Sweet Petites (V) / $7
Almond Quinoa Berry Energy Bar (VG/GF) / $5.75
Traditional Pictou County Oatcakes (V) / $5
Chocolate Dipped Oatcakes (V) / $6
Fruit & Seed Granola Bars (VG/GF) / $5.75
*All food selections have a 25 persons minimum order unless otherwise noted. Prices are subject to change.
Food & Beverage Downloads
Wild Nova Scotia Blueberries

Our provincial berry may be small, but it packs big flavour! Over 65 million pounds of wild blueberries are produced annually in Nova Scotia, and once you've tasted , you'll understand the hype!