Transportation Leaders from 25 Countries to Gather in Halifax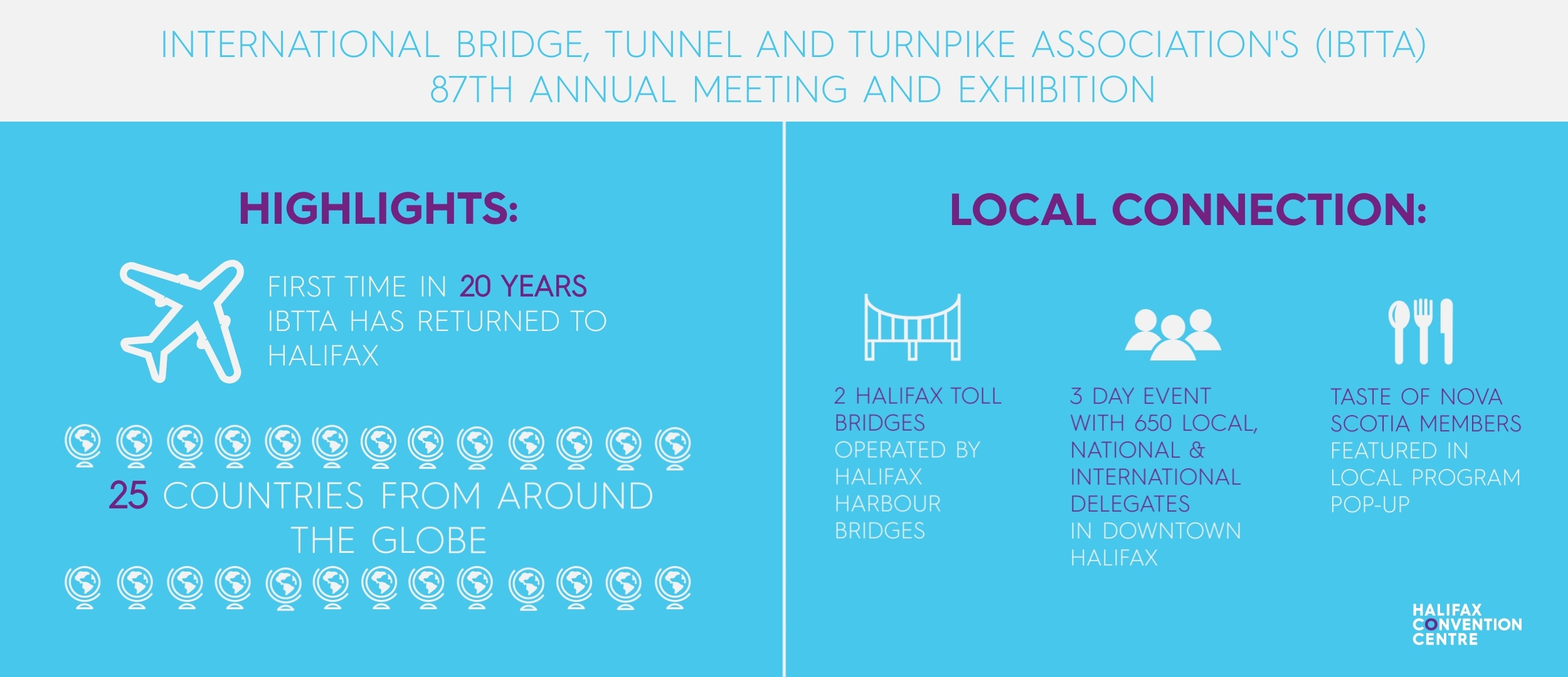 For the first time in 20 years, delegates from 25 countries will gather in Halifax for the 87th International Bridge, Tunnel and Turnpike Association's (IBTTA) annual meeting and exhibition.

More than 650 transportation experts will meet at the Halifax Convention Centre, Sept. 15 to 17. At this year's conference, transportation leaders from around the globe will share best practices in the industry, while discussing advancements and improvements in tolling and transportation technologies providing drivers with greater mobility and enhanced safety.
The Halifax Convention Centre is working with Halifax Harbour Bridges and Taste of Nova Scotia to give delegates a taste of local flavours during the event. As part of the centre's Local Program, a pop-up will take place during registration, with members of Taste of Nova Scotia serving samples and discussing local product and culture.
Delegates will be participating in a tour of the completed Big Lift project on the newly renovated Macdonald Bridge, one of two toll bridges in Nova Scotia operated by Halifax Harbour Bridges.
Quotes:
"We are thrilled to welcome IBTTA back to Halifax. In addition to the knowledge that is shared at this annual conference, delegates from around the world are looking forward to visiting Halifax and taking in the Nova Scotia hospitality."
- Steve Snider, general manager and CEO, Halifax Harbour Bridges
"Our centre aims to attract significant international events like IBTTA to connect local experts with their global counterparts so they can network and help grow their industry. We look forward to delivering an amazing event and giving our guests an authentic Nova Scotia experience, inspiring them to get out and explore all our city and province have to offer."
- Carrie Cussons, president and CEO, Halifax Convention Centre
Quick Facts:
IBTTA is the worldwide association for owners and operators of toll facilities and the businesses that serve tolling
through advocacy, leadership and education, IBTTA's members are implementing state-of-the-art, innovative user-based transportation financing solutions to address critical infrastructure challenges
the Halifax Convention Centre offers 120,000 square feet of modern event space
the centre opened in December 2017, hosting 163 events and over 100,000 guests in its first year of operations
Additional Resources:
-30-

Media Contacts:
Erin Esiyok-Prime
Halifax Convention Centre
902-421-1302 ext. 2791
Email: erin.eprime@eventseast.com
Alison MacDonald
Halifax Harbour Bridges
902-463-2476
Email: amacdonald@hdbc.ns.ca