Halifax Convention Centre to Host 120 Events this Year
The Halifax Convention Centre is kicking off a busy event season with more than 120 events scheduled for 2022 with an estimated 80,000 delegates, including 26 national/international conventions.

"Our clients are ready to be back to live, in-person events and they are continuing to choose Nova Scotia to host them," said Suzanne Fougere, Executive Vice-President, Halifax Convention Centre. "We know our team, our community and our industry are ready to feel the impact of face-to-face events once again and help our clients create memorable experiences for their delegates."
Upcoming events include:
Chamber Spring Dinner (May 4)
Canadian Ophthalmological Society Annual Meeting & Exhibition (June 9-12)
Co-operative Housing Federation of Canada (June 16-18)
Canadian Anesthesiologists' Society Annual Meeting (June 24-27)
Canadian Society for Brain, Behaviour and Cognitive Science Conference (July 19-20)
Canadian Veterinary Medical Association Conference (July 21-24)
National Black Canadians' Summit (July 29-31)
International Society for Veterinary Epidemiology & Economics (August 7-12)
Nova Scotia Seafood Alliance AGM (September 8-9)
National Insurance Conference of Canada (September 19-20)
DEFSEC Atlantic (October 5-7)
The 27th International Annual Congress of the World Muscle Society October 11-15)
And many more.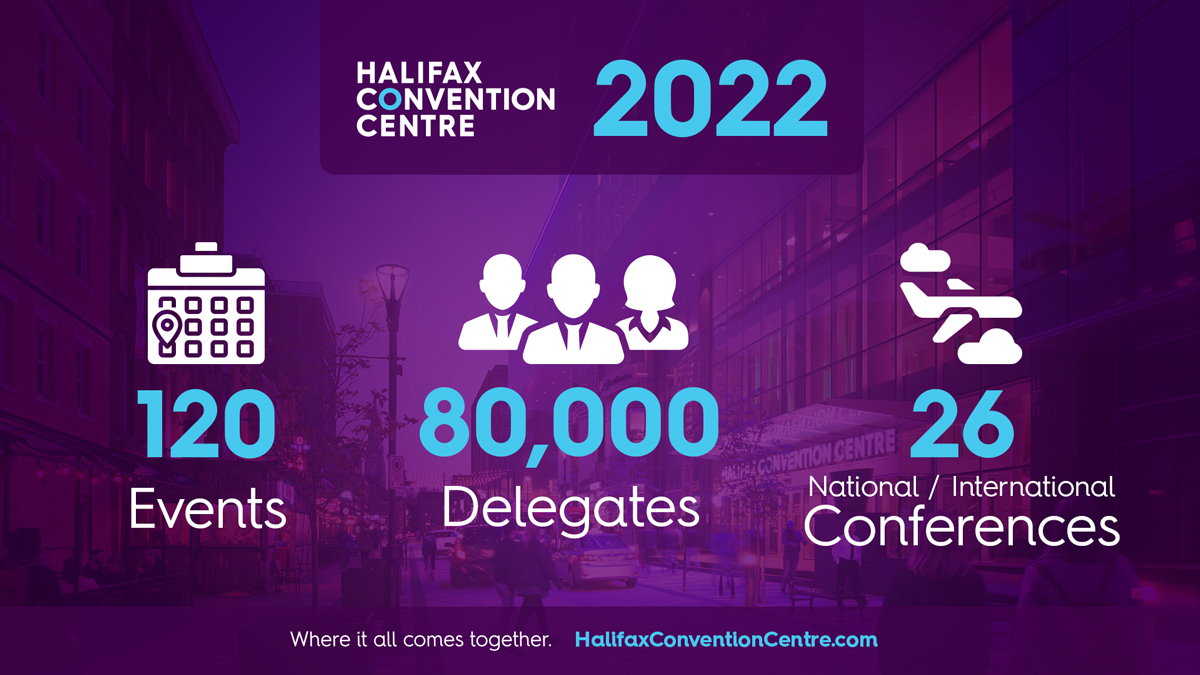 Seeing a return to pre-pandemic event volume, the Centre has a strong mix of national and international conventions, local and regional meetings, trade shows and gala dinners that will drive economic and community vibrancy for Halifax and Nova Scotia, creating new business, partnerships and tourism opportunities.
"This will be our first in-person meeting since the pandemic and the first time the congress will take place in Canada. We are excited about welcoming the neuromuscular community, particularly those who have never been to Canada," said Clare Beach of the World Muscle Society Secretariat. "We are particularly excited about realising the event we've been working on with the team at the Halifax Convention Centre for many years. They have been an exceptional partner, learning alongside us as we have navigated new situations, providing support, flexibility and guidance."
For a full, up-to-date listing of events, visit HalifaxConventionCentre.com
-30-
Media Contact:
Erin Esiyok-Prime
(902) 403-2693
Erin.eprime@eventseast.com