Event Planning 101: Convention trends to watch in 2017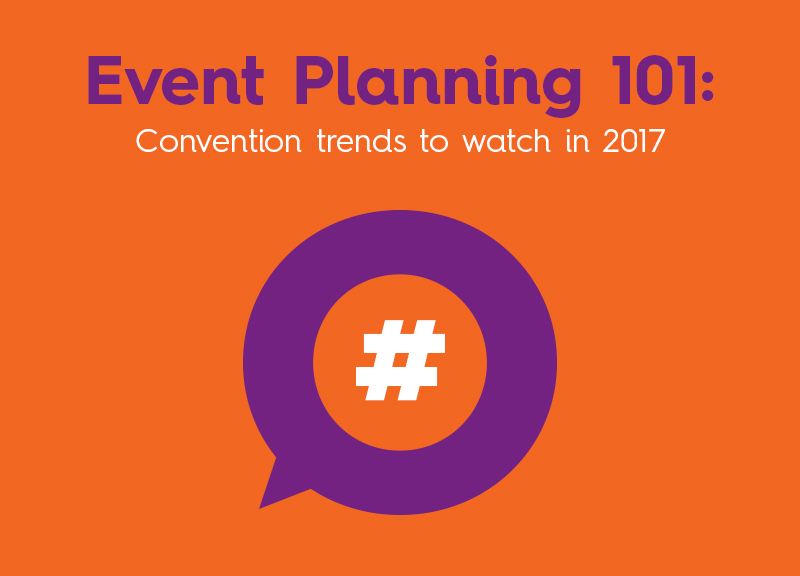 There's a lot that goes into hosting a great event, and ever-changing trends can have a big impact on the overall experience for you and your guests. We want to help you stay at the top of your game, so we asked our Senior Event Manager, Jeff Totten, to share three trends he thinks will influence the event planning industry over the next year. Learn more below!
1. More ways to interact and engage event attendees
The days of sitting quietly and listening to a keynote speaker are ending. Connecting on a deeper and more interactive level has become the expectation for delegates. Materials provided, both during meetings and on the trade show floor, are now being shared in a way that offers opportunities for event attendees to connect and collaborate on multiple levels. Here are a few ways you can easily create a more engaging event experience for guests:
• Develop an event hashtag to make it easy for delegates to be a part of the conversation.
• Create live polls that allow guests to share ideas and provide instant input.
• Host 'campfire'-style meetings that encourage informal group discussion and put attendees in the spotlight.
• Take round-table discussions to the next level by prepping audiences with speaker notes or introductory video content ahead of time - this way delegates come prepared with questions.
• Consider apps and mobile Q & A tools that allow guests to interact in real-time with one another and keynote speakers during the event.
2. Ultra-conscious events 
Meetings and conventions are looking for ways to be more socially inclusive and deliver culturally-positive messages. Socially-conscious meetings are taking 'green' meetings a step further. Ethnic, social and cultural diversity in speakers, exhibitors and attendees is demanded by the ultra-conscious delegate of today. This means that planners must be even savvier when it comes to meal selection, entertainment choices and common events. 
3. Space for 'me' 
Planners are beginning to look at the conference agenda and event structure more holistically. Room setups are incorporating 'zen-style' layouts to reflect a a comfortable atmosphere that makes it easier for attendees to relax while learning and networking. Furthermore, delegates are placing greater value on the destination as part of their conference experience. With this in mind, planners are now building more free-time into meeting agendas to encourage attendees to explore and embrace all that the host city has to offer.
We look forward to diving even deeper into some of these trends in 2017. Stay tuned for more!