Event Planning 101: 2016 Food Trends
As the 2016 event season ramps up, our culinary team continues to perfect delicious new creations to delight our guests. Tastes are ever changing, but we always try to stay ahead. Our Executive Chef, Christophe Luzeux, shares five food trends for 2016.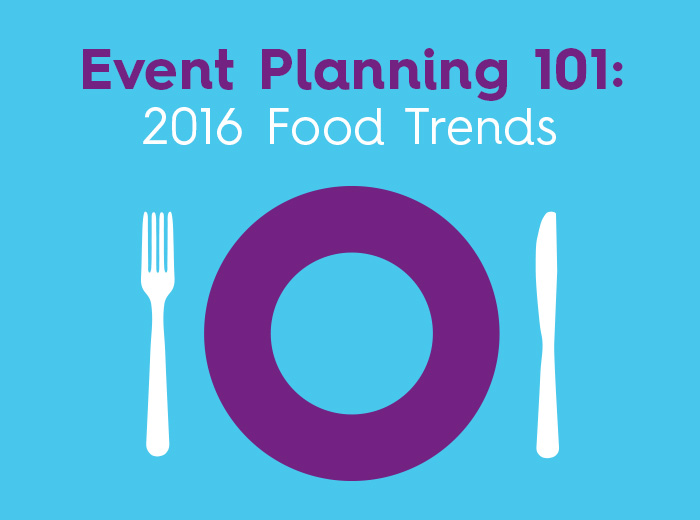 Trend #1: Grab and go

Table service has its time and place, but we're seeing more interest in highly convenient portable food. Guests want the flexibility of grabbing breakfast on the way to a session, or refueling while they wait for the perfect moment to introduce themselves to an industry contact.
Trend #2: Local flavour
We've always prided ourselves on serving regional specialties but local is taking on a whole new meaning. Guests are increasingly interested in knowing what local farm their meat is sourced from, where their fish was caught or what seasonal veggies were incorporated into the menu.
Trend #3: Comfort food with a twist
Comfort food is making a comeback as we re-focus on simple, natural ingredients. We're seeing a lot of traditional favourites re-born with more sophisticated pairings or unexpected flavours that will delight your taste buds.
Trend #4: Sustainability
More organizations are now factoring sustainability into their event considerations. We're expecting to see increased demand for offerings such as sustainable fish. To fully embrace our guest's values, we've done everything from purposely working imperfect fruits and vegetables, that might otherwise be thrown out, into the menu or donating leftovers to our local food bank.
Trend #5: Local wine and craft beer
The quest for local everything extends beyond veggies and cuts of meat. Popular choices for beverages now include local estate wines and regional craft beers. Our Prime Minister, Justin Trudeau even embraced this, at the World Economic Forum, with a bottle of our local Grand Pré Wines', Tidal Bay.