Local fall food items to incorporate in your Halifax event menu
Sep 22, 2015
Growing up in a large Acadian family near a world-renowned Atlantic salmon fishing area, our Executive Sous Chef Pierre Gaudet learned early on just how much a region and culture can influence a culinary experience. We asked him to share some tips on preparing the perfect menu for a fall event in Halifax.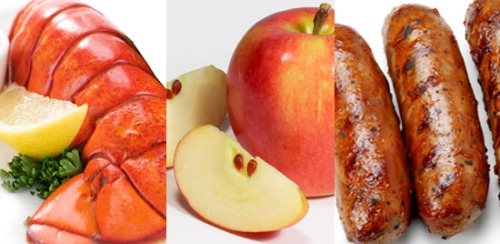 1. How do you get started when planning an event menu?
Get to know your delegates.
Find out their culinary wants, needs & desires.
Try and expose guests to local traditions and to Nova Scotia's vast, varied cultural culinary offerings.
Have them embrace all that Nova Scotia's bountiful harvest has to offer.
2. What are your favourite local fall food ingredients?
Fresh seafood: lobster, mussels, and scallops are all still very much in season until late November.
Valley apples: Cortland or Spartan are great for cooking and baking this time of year.
Grapes from our world-class vineyards, especially Marechal Foch or Acadie Blanc varieties.
Locally produced sausage, including pork, lamb, and poultry options.
Homegrown cranberries (so good, and good for you).
3. What makes these items special for your fall menu?
They provide a splash of variety, and can be used in a combination of ways for versatile menu creation.
The fall season in Nova Scotia is a celebration of patiently grown harvests. The ability to pause and truly savour some of these and many other Nova Scotian selections will lend itself to lasting memories, and perhaps help to create endearing personal traditions for your guests.
There's a sense of pride in local food, and allowing guests to experience seasonal food items helps to deliver on their overall event experience.