A very toffee holiday - Warm gingerbread with sticky toffee sauce!
A take on a British classic, Sticky Toffee Pudding, our pastry chef Jonathan Hannam shares a recipe to a dessert that has become a special holiday tradition for our team. Delight your guests with this sweet treat over the holidays!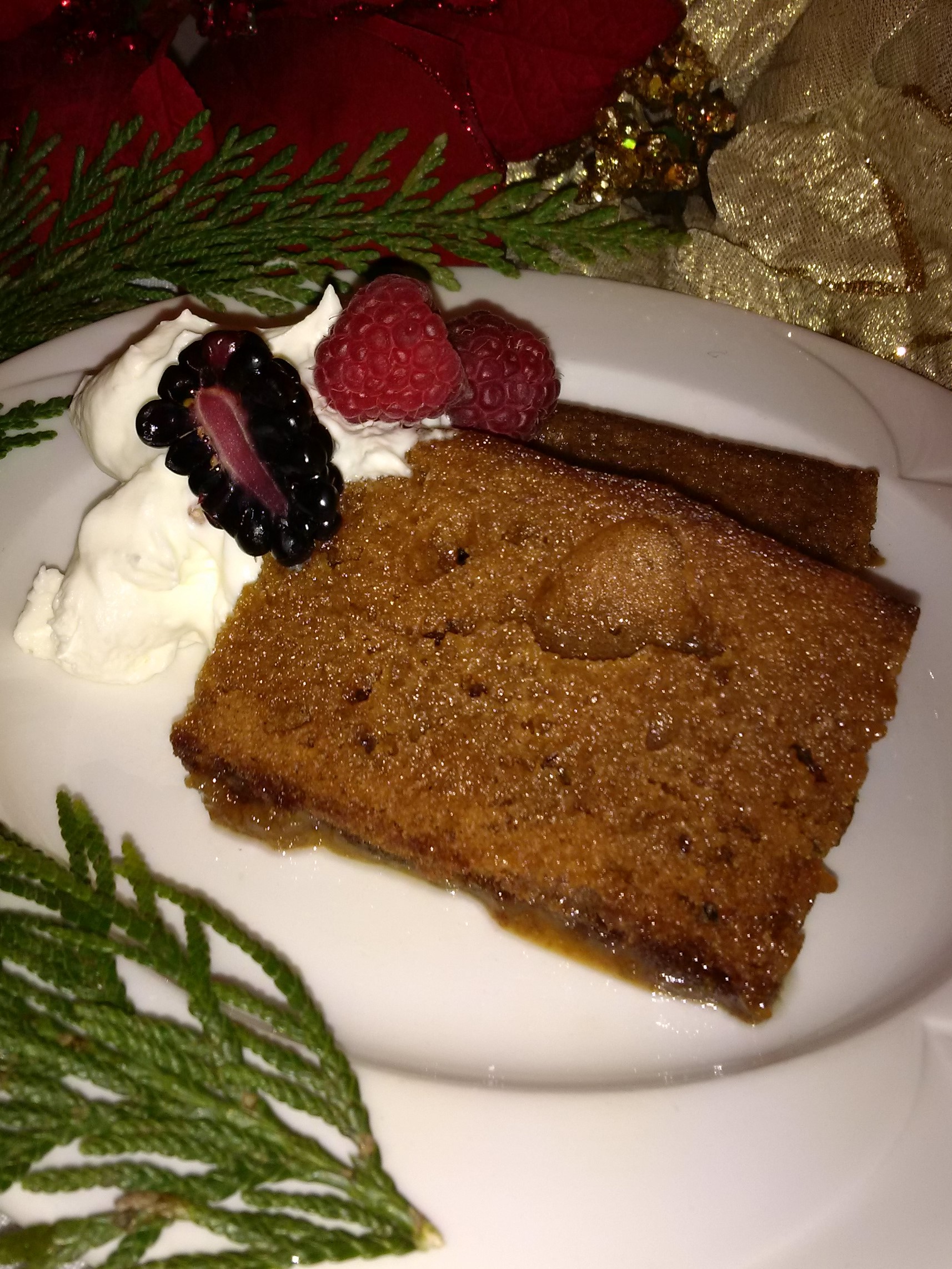 GINGERBREAD CAKE
Ingredients:
2 cups (260 grams) all purpose flour
1 teaspoon (5 grams) baking soda
½ teaspoon (2 grams) baking powder
½ teaspoon (2 grams) salt
1 ½ teaspoons (3 grams) ground cinnamon
1 ½ teaspoons (3 grams) ground ginger
¼ teaspoon ground cloves
Zest of 1 lemon (outer yellow skin of lemon)
¼ cup (30 grams) finely chopped crystallized ginger (optional)
½ cup (113 grams) unsalted butter, at room temperature
½ cup (110 grams) light brown sugar
¼ cup (50 grams) granulated white sugar
2 large eggs, at room temperature
½ cup (120 ml) (130 grams) molasses (Hint: To prevent the molasses from sticking to the measuring cup, first spray the cup with a non-stick vegetable spray.)
1 cup (240 ml) milk, at room temperature
Method:
Preheat oven to 350 degrees F (180 degrees C) and place rack in center of oven. Butter and flour an 8 inch (20 cm) square pan with 2 inch (5 cm) sides.
In a separate bowl, whisk together the flour, baking soda, baking powder, salt, ground cinnamon, ginger, cloves, lemon zest, and crystalized ginger (if using).

In bowl of your electric mixer (or with a hand mixer), beat the butter and sugars until light and fluffy (about 2-3 minutes). Add the eggs, one at a time, beating well after each addition. Add the molasses and beat to combine. Scrape down the sides of the bowl as needed. Add the dry ingredients (in three additions) and the milk (in two additions), alternately, beginning and ending with the dry ingredients. Beat just until incorporated.
Pour the batter into the prepared pan and smooth the top with the back of a spoon or an offset spatula. Bake for 30-35 minutes or until a toothpick inserted into the center of the cake comes out clean.
Remove from oven and let cool on a wire rack.
When cool, slice cake and arrange in serving dish. Prepare sticky toffee sauce and pour over gingerbread. Keep warm until ready to serve.
Serve with fresh vanilla whipped cream.
STICKY TOFFEE SAUCE
Ingredients:

8 tablespoons (1 stick, 4 ounces or 115 grams) unsalted butter
1 cup (235 ml) heavy or whipping cream
1 cup plus 2 tablespoons (215 grams) brown sugar
2 teaspoons vanilla extract
½ tsp (5 grams) salt
Method:
In a medium sauce pan, warm butter, cream and brown sugar over medium heat until butter is melted. Increase heat and allow to boil for 1 minute. Remove from heat and stir in vanilla and salt. Immediately pour over slices of gingerbread in the serving dish.